Overview
You can register the product from the welcome page of the administration interface which is displayed after each login. When installed, the product can be registered as a trial or as a full version.
WARNING: If Kerio Operator is protected by a firewall, it is necessary to allow outgoing HTTPS traffic for Kerio Operator at port 443. Unless HTTPS traffic is allowed, Kerio Operator cannot use the port to connect to the Kerio Technologies registration server.

The trial version is intended to allow the customer to become familiar with the product's features and configuration. Once you register the trial version, you will be provided free Kerio Technologies technical support during the entire trial period (up to 30 days).

Resolution
The trial version can be registered by clicking Become a registered trial user from the Dashboard (see the screenshot below).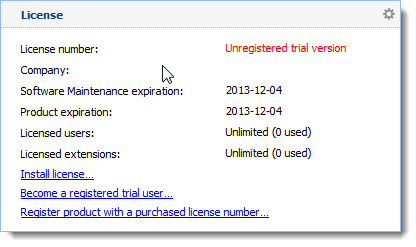 In the dialog box that appears, set the following parameters:
Enter the security code (CAPTCHA) from the image.
Enter the information about your company and agree with the privacy policy terms.
Choose how many computers you have in your company and how you learned of Kerio Operator.
Now, a special identification code called Trial ID gets generated.
This ID is later required for contacting the technical support.
After a successful registration, Trial ID can be found in the license information in the administration interface.
NOTE: Once you purchase the product, your Trial ID becomes your license number (it will not change).


[I] Registering full version
If your trial version is registered, the license key (license.key file) is automatically imported to your product within 24 hours from your purchase. The Trial ID you entered in your product upon registration will be activated as a standard license number.
If you haven't registered your trial version:
Open the administration interface.
Click Register product with a purchased license number on Dashboard.
In the first step of the registration, enter the license number and enter the security code from the image.
NOTE: The code is not case-sensitive.
Click Next to make Kerio Operator establish a connection to the registration server and check the validity of the number entered. If the number is invalid, the registration cannot be completed.
Type the registration information about the company the product is registered to.
Kerio Operator connects to the registration server, checks whether the data inserted is correct and downloads automatically the license key (digital certificate).
Click Finish to close the wizard.


[II] Manually importing the license key
If you need to import a license key manually (for example from a backup), use the following steps:
Prepare the license key.
Log in to Kerio Operator administration.
Click Install license on Dashboard.
In the Install License dialog, click Browse.
In the Open dialog, find the file .key with the license key and click Open.
In the Install License dialog, click OK.
Check the result in the License tile on the Dashboard.
[III] Registering via a web browser
You can also register Kerio Operator via a web browser.
Go to https://secure.kerio.com/reg/
Register using your purchased license number.
By registering, you will receive a license key which must be imported to Kerio Operator.
NOTE: The trial version of Kerio Operator cannot be registered via the website.


Validation
Kerio Operator installs the license key and by registering, you receive a license key which can be used to import to Kerio Operator.